For spring break this year, Mark and I got the wild idea to take the kids down to San Antonio and go to the zoo and then the Alamo. Seems legit and within reason, right?
What normally should have been about a two hour drive to get to the zoo took way more that two hours. It took for-ev-er!!
They had the main road to the zoo blocked off and rerouted everyone around. We were crawling and once we got to the point where they rerouted us, it took another hour to get to the zoo. It was bumper to bumper, every parking lot was full and once we got to the front of the zoo, it would have taken about another hour to get inside. Apparently, everybody else had the bright idea for the zoo, too.
We decided to forget the zoo and move on to the Alamo and the Riverwalk. Once we finally found a parking garage downtown to park in, we were all cranky, tired and hungry.
We turned a corner after coming out of the parking garage and what did I see? Only a slice of Heaven in front of me! Whataburger! If you're not from Texas or another state with a Whataburger, then I have to tell you, these burgers are so good! We ordered, got our number and sat down to wait. The number we got didn't surprise me considering the day we had so far.
Emily's face describes how we all felt.
But oh how I heart Whataburger! If we ever move out of Texas and to a state without a Whataburger, our visit's back to the Lone-star state will definitely include a trip to this fine establishment. Whataburger with cheese, please!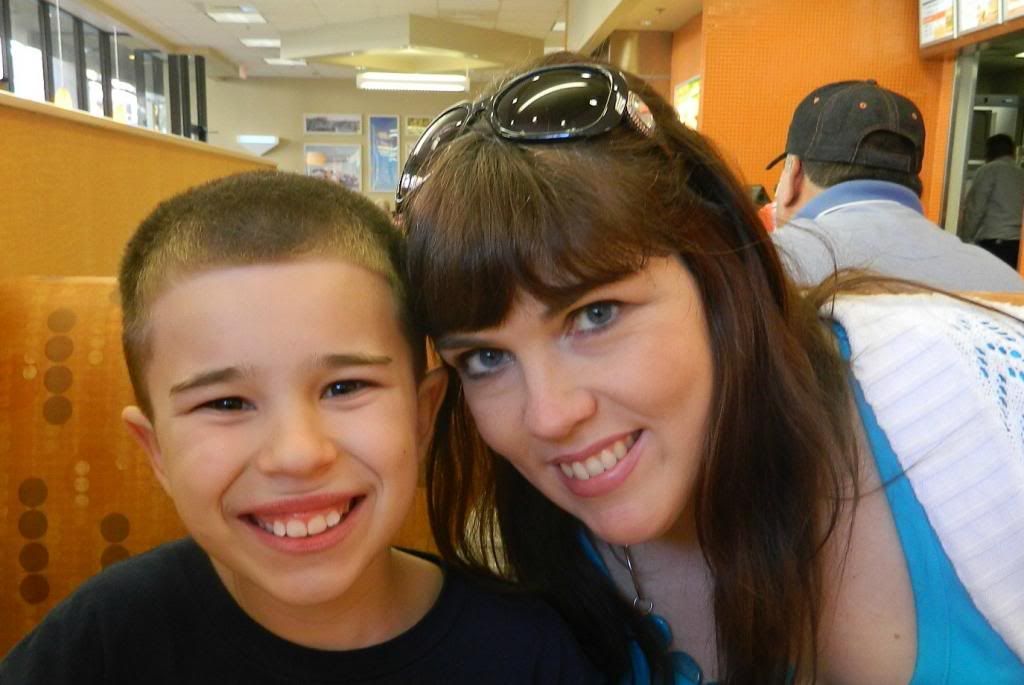 Mr. E and me!
We decided to move on to the Alamo. It was crazy there, too! The line outside the
Alamo wrapped around the building, so the kids weren't able to go inside. Ethan was disappointed because he had been studying about the Alamo in school, and he was telling us all about it's history.
Me: Maybe we can go to the Alamo.
Ethan: Yeah, we've been studying about that in school.
Me: Really?
Ethan: Yeah, we saw the movie.
Me: You saw the movie? That's how you've been studying the Alamo in school?
Ethan: Yeah, and that Jim Bowie was mean and he drank alcohol a lot.
Me: Oh! My school tax dollars at work! Thank you education system!
But this is about as close as we got.
Here's Mr. E in front of the Alamo.
So then we made our way to the Riverwalk. It was just as crazy over there. The wait for the Riverwalk boat ride was another hour or so. We decided then that San Antonio on spring break was not such a grand idea and decided to start heading home.
We stopped at the outlet mall in San Marcos and shopped for awhile, then we stopped at the Crackle Barrel, which was yummy as always.
OK, so the highlight of our San Antonio trip was Whataburger and the Crackle Barrel! Ha!
The next day I had an order for some cookies, so I baked these...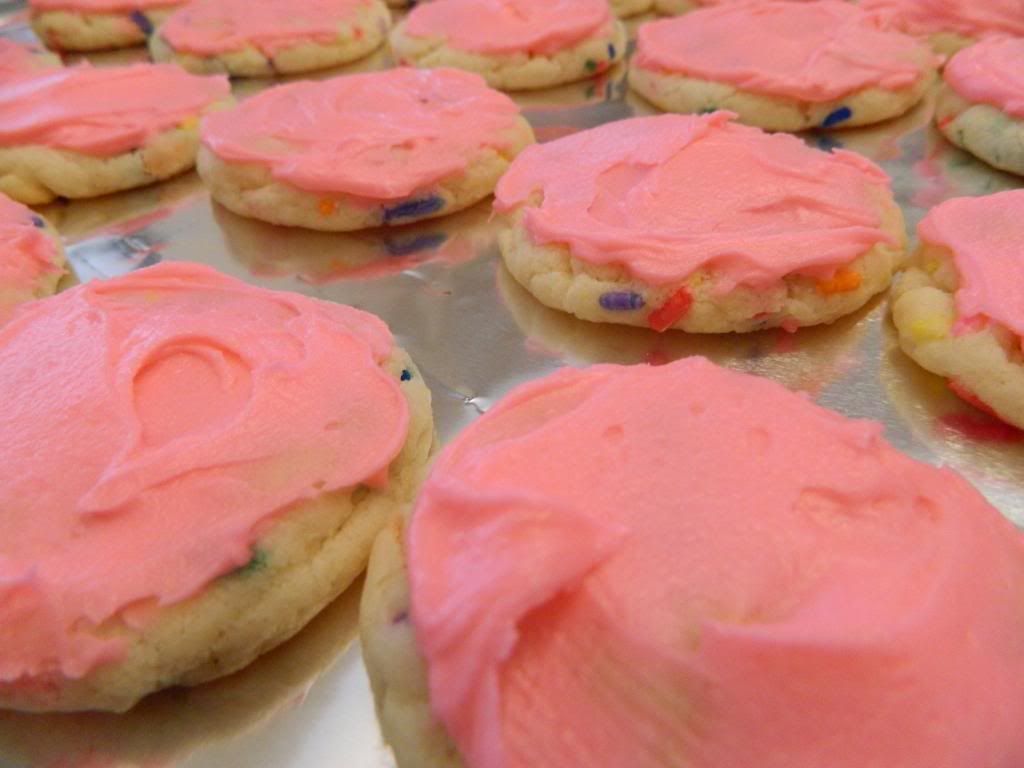 Funfetti Cake Mix Cookies
And these...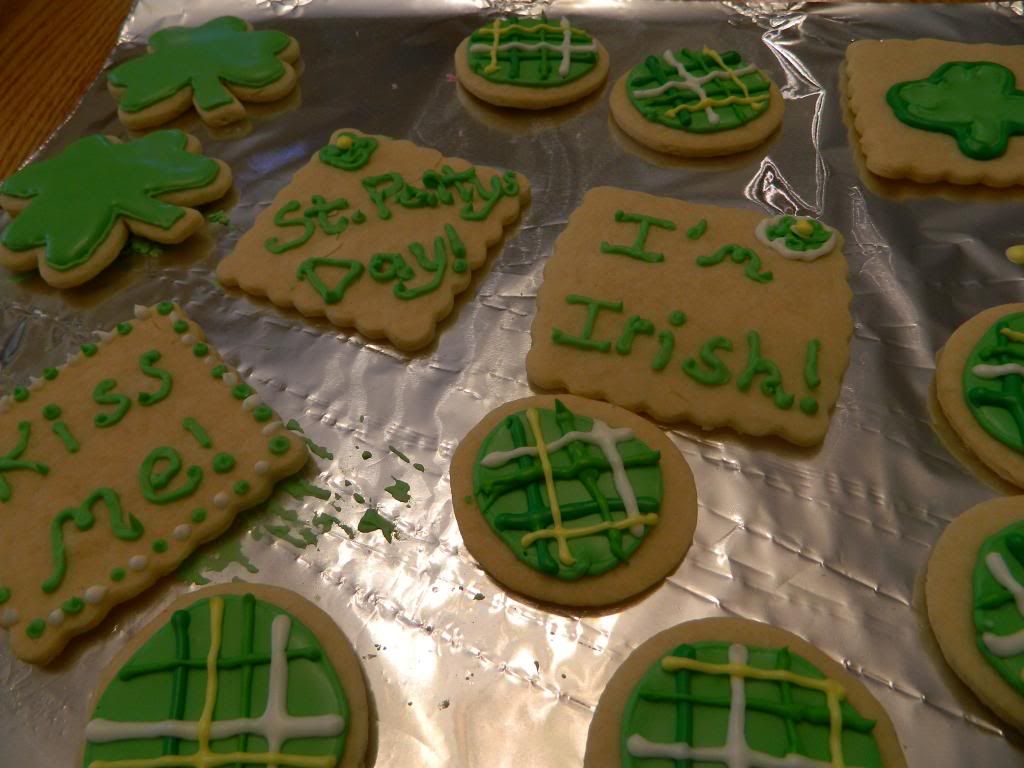 Sugar Cookies with Royal Icing
And on Saturday, Emily and I went to go see my dad get ordained. Mark and Ethan were working at our church's clean up day the first half of the service, but they came later and was able to catch the actual ordination.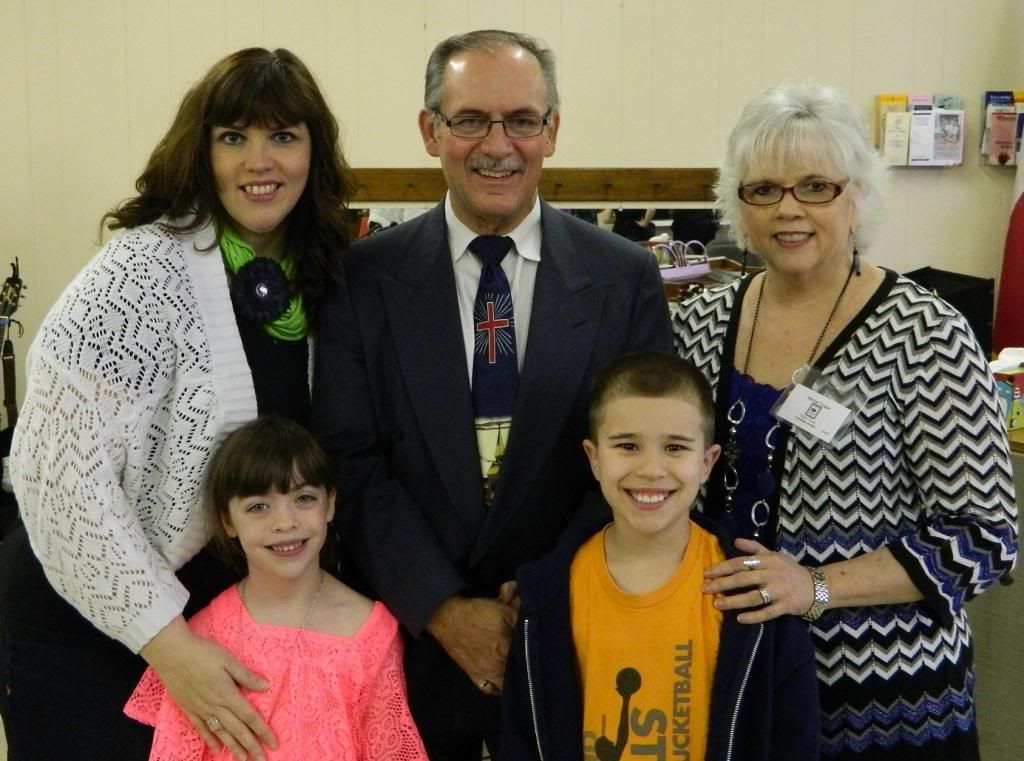 Me, my dad, my mom, Emily and Ethan
So a major lesson was learned. Don't, I repeat, DO NOT visit San Antonio during spring break! Do however, run don't walk to a Whataburger near you! (LOL!!)
But it was nice to spend time with my family! I enjoyed it all!