Today I'm participating in a link-up from
Kelly's Korner
that's all about adoption.
My husband and I lost our first baby, Chandler in January 2002 to a rare form of muscular dystrophy called Myotubular Myopathy (MD). After he passed away, we found out that I was a carrier of that disease, and it affected boys.
I was so devastated. That news meant having more children would be risky. We run the risk of having another affected child, in fact it would be 1 in 4.
We decided to try and adopt. We started by looking into fostering to adopt. We started the fostering classes in May 2002. We were very specific in what we wanted, and the foster agency understood our loss and understood what we wanted. We had a whole nursery set up for a baby. We still wanted a baby.
We got a few calls here and there for children, but it never worked out for one reason or another. Twice, Mark and I rushed home early from work only to get a phone call on the way saying they were going with a different couple or decided to go with a family member.
In March 2003, Mark and I decided to take a long overdue vacation. For kicks we chose Las Vegas. We went, had a fabulous time and enjoyed ourselves so much. What we didn't know was that a couple weeks after we came back we would get a phone call about a baby boy named Ethan.
Surprisingly, everything went quickly. They called us on a Tuesday and said they needed an answer by Wednesday because the baby was in the children's shelter. Now's the time I tell you that Ethan was born with a condition called Agenesis of the Corpus Collosum (ACC). Basically, he is missing the fibers in his brain that connect the right half to the left half (the "highway" in the brain). So we had some serious thinking, research and prayer to do in 24 hours.
I still remember Mark and I on our knees in prayer, in our old house, in our old bedroom praying and asking God if this is the baby boy we're supposed to have. I felt peace about it. Mark did as well.
Friday morning, April 17th, a fat, bald headed baby was placed in my arms. And he never left. Everything went so smooth. It had to be of God. Of course we had awesome case workers with our Foster/Adoption agency, with the state, with the attorneys, CASA and others who knew Ethan was meant to be ours.
Ethan was 3 months when he came to us. He was 18 months when the adoption was final.
Adoption Day, July 2004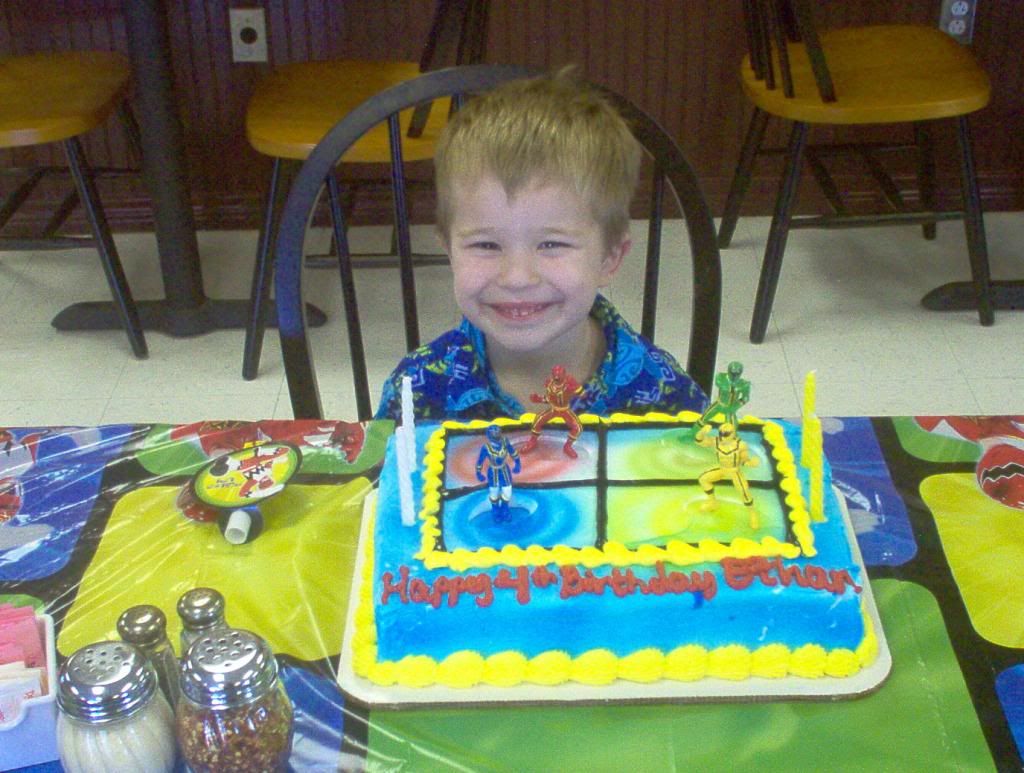 Ethan's 4th birthday.
Branson, 2012
And unfortunately we lost another baby boy, Max to MD in 2007.
But, Ethan is most definitely our son. I believe he is the son that God has meant for us.
Ethan is really high functioning for a child with ACC. He has a slight learning disability. He has trouble with complex thinking and thinking "outside the box" or trying to come up with "what do you think will happen next". That's due to the missing corpus collosum which is called the brains "highway". Even though he is missing the "highway", there are back roads. But he is getting great help in school and has passed every class all 6 weeks in school this year. He is also getting "Excellent" in is weekly behavior folders this school year too.
We are so proud of Ethan. I don't regret going the adoption process one bit. I believe that God closed all the doors until Ethan was available. Once he opened that door, no one could shut it.
We love you Ethan!!! You are funny and handsome and you have the whitest most beautiful teeth! I love your teeth! Sometimes you blow me away with your maturity and you are growing up so fast! You, my son, are loved!